Character Profile
Edit
Jo's profile can be found
here
.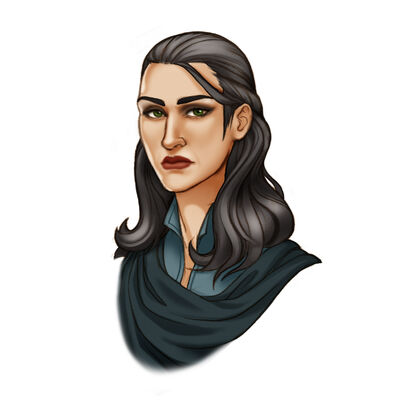 Changes to Profile
Edit
Jo has taken up residence in Denerim, in a small home just outside of the less reputable areas.
Jo has resumed her birth name of Josephine Foote, after her background was made known to her family.
Relationships with Other Characters
Edit
Ramsay Costigan: Jo's employer, though they have recently come to a more complicated business arrangement. She chooses to trust Ramsay because she believes he understands her and she him. They work very well together and she has no qualms spending his money. Once Jo's secret was exposed, she and Ramsay entered a sham engagement to hide the true nature of their dealings.
Theodore Foote : Jo's brother, and Bann of Snowscrest. Their relationship is quite tense, as Theo has not forgiven her abandonment.
Random Facts
Edit
Jo's fruit of choice is Blackberries
Jo's birthday is Guardian 7
Dragon 32
Cloudreach
Bloomingtide
Justinian

Dragon 33
August
Kingsway
1: Dearly Beloved
1: A Ghost or a Stranger
2: Friends on the Other Side