The Vulgar Imp Inn is a cheap, yet moderately upscale inn located in the small waterfront town of
Bord-de-Mer
, a half-day's walk from
Val Royeaux
. The first floor contains a tavern complete with several tables and a bar, as well as a storage room and a kitchen. The second floor houses the rooms and a single wash room for bathing. The inn is located on the southwest corner of Bord-de-Mer, overlooking the Waking Sea.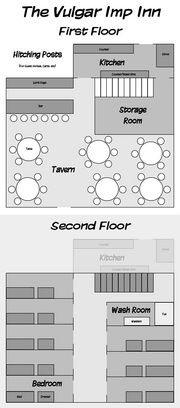 8 total guest quarters, meant for 1-2 people apiece
Tavern area that seats up to 42 people
Small rooms furnished with a simple, but comfortable bed and dresser
Low price for decent drink, food and shelter
Hitching posts in the back for guest horses and carts
Tap includes ale, mead, wine, water, and various local fruit juices.
Inn's staff includes:

Friendly innkeeper/owner (middle-aged human man)
Bartender (young adult human man - owner's nephew)
Waitress (young adult human woman - owner's daughter)
Kitchen staff (3 elves, all male; 1 human - female - owner's wife)
Night time guard (outside for hitching posts - young adult male elf)
Ad blocker interference detected!
Wikia is a free-to-use site that makes money from advertising. We have a modified experience for viewers using ad blockers

Wikia is not accessible if you've made further modifications. Remove the custom ad blocker rule(s) and the page will load as expected.